Spring / Summer 2023 Newsletter
10 Years at Sucre, Iberth, and Tania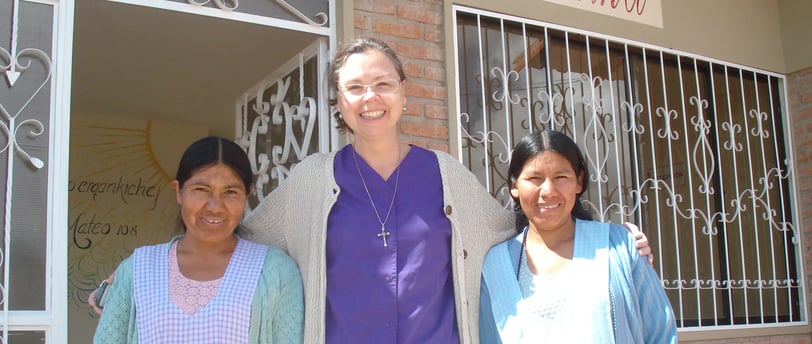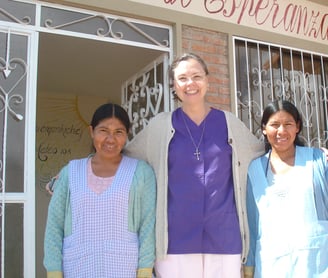 TEN YEARS IN SUCRE
On February 3rd, we celebrated the ten-year anniversary of our free medical clinic in Sucre! To date, they have seen more than 45,000 patients. Sucre is a beautiful city in the Andes Mountains. Our clinic was built in the hill country above the city where it serves a large Quechua Indian community. These are hard-working people who farm the land using their hands without the benefit of modern equipment. They often have a small herd of animals to tend as well.
Traditionally, when someone gets sick, it is the custom to visit the local witch doctor. These are poor people who do not have a lot of money, so payment is usually in the form of crops or an animal. Now that word is spreading about the Mission of Hope clinic where everything is free, more and more people are coming to us instead. Many are seeing a medical doctor for the first time in their lives. Very few people own vehicles in this community, so patients usually arrive on foot, sometimes walking for miles to get to the clinic. Patients are also hearing the Gospel message in their Quechua language for the first time, and during these ten years, more than 2,000 patients have made decisions to follow Christ in our waiting room!
IBERTH'S STORY
Iberth is 9 years old and in 4th grade. He lives with his mother, brother, and sister in a small house about 15 minutes walking distance from the Sucre clinic. About 6 months ago, Iberth's father abandoned them, leaving his mother without any way to support herself and her children. She found a job working as a cook's helper, but it didn't pay very much. A few months later, she took a job working in a processing plant for poultry where the pay was a little better.
Once or twice a week, Iberth's mother walks to the nearest bus stop and rides the bus 40 minutes to shop at the open-air market. In January of this year, Iberth and his mother and sister were walking to their house after a trip to the market with all their vegetables in hand. Iberth tripped and fell on the uneven bricks in front of his house. When he fell, he instinctively put his hand down to break his fall. By the next day, Saturday, Iberth was in a lot of pain. His mother did not have money to take him to a doctor. She walked to a nearby pharmacy and bought some pain medicine. By the next morning, Sunday, Iberth was crying in pain. The pain medicine was not working. They went to a small, government-run medical clinic near their house, only to find out that medical attention was no longer available.
First thing Monday morning, Iberth and his mother arrived at the Mission of Hope clinic and were seen by one of our doctors. X-rays showed that Iberth had fractured his wrist. He was given more pain medicine, and his wrist was immobilized with a cast and a sling. His wrist has now completely healed, and he has normal movement without any pain.
Iberth and his mother are so thankful for the care they received at the Mission of Hope clinic. This clinic is a lifeline for families like theirs who struggle just to put food on the table. Add in the cost of supplies for public school, and there is no money left over for medicines and medical care!
TANIA'S STORY
Even though we have not been able to send teams from the US for the past several years, the medical clinics in Santa Cruz and Sucre have continued to operate without missing a beat! This is due in large part to the excellent leadership provided by our administrator, Tania Rivero. Both clinics are completely staffed with local Bolivian professionals who have served our patients throughout the Covid pandemic.
Tania first signed on as a "cleaning lady" at the Mission of Hope clinic in September of 2004. Within a short time, she was in charge of organizing the cleaning crew and purchasing supplies.
By the year 2006, Tania had become one of our most versatile employees helping wherever she was needed. She worked as an assistant in reception registering patients as they came in, as an assistant in the pharmacy packaging meds and helping with inventory, as an assistant to the doctors performing ultrasound, and as an assistant to the head nurse.
In the year 2008, Tania became an assistant to the administrator. One of her most important jobs during that time was preparing for the surgery teams that were coming on a regular basis. She would organize the surgery supplies, organize the clinic staff for their roles during the surgery week, and make sure the patient rooms and operating rooms were ready. Those of you who went on surgery teams may remember Tania quickly and efficiently cleaning and disinfecting the operating rooms in between cases.
In May of 2010, Tania became director of personnel, a job she held until June of 2012. In July of 2012, Tania became the administrator of the Santa Cruz clinic. Seven months later, we opened the medical clinic in Sucre, so Tania was tasked with overseeing both clinics. Meanwhile, a parallel story had been developing.
In the early years of Mission of Hope, we had difficulty finding good nurses to work with us. We saw that Tania had tremendous potential, and we asked her if she would like to study nursing. After talking it over with her husband, it was decided that Tania would pursue a degree as a licensed nurse. In 2007, Tania began her studies at a local university while continuing to work full time in the clinic. Tania's son, who was a special needs teenager at the time, needed a lot of help with his homework. So, in addition to doing her own homework, she had to make time to also help her son with his.
Tania's greatest challenge came when she had to do her clinical practice in the local hospitals. After working all day at the Mission of Hope clinic, she would go to her designated hospital assignment and work all night. The next day, she would return to the clinic and work until 5 pm, then leave and go to classes. She would get home from classes about 10 pm, sleep a little, get up and do her homework, and then look over her son's homework before he would leave for school. Tania says it was a difficult time in her life, but "by the grace of God we kept going forward." She says the verse that sustained her was Philippians 4:13, "I can do all things in Christ Jesus who gives me strength."
Tania finished her studies in 2011, but in order to get her license was required to do one more year of clinical practice. Because of time constraints and her many responsibilities in the clinic, the nursing degree was put "on hold." As Tania became administrator of the clinic, the knowledge and skills she had acquired in her nursing experience were invaluable to her. Working in the local hospitals had given her a new appreciation of the Mission of Hope clinic!
In 2018, Tania decided to complete her nursing degree by writing a thesis in lieu of the extra year of clinical practice. She encountered many roadblocks along the way. First, Covid shut down the city and the university. Then her mother died of Covid. Then she had a bad reaction to a Covid vaccine resulting in paralysis of her face. Through all these challenges, Tania persevered. In January, Tania successfully defended her thesis and received her degree, ending a 16-year journey! We are so blessed to have her running our two clinics in Bolivia. She is truly a gift from God! To God be the Glory!!